---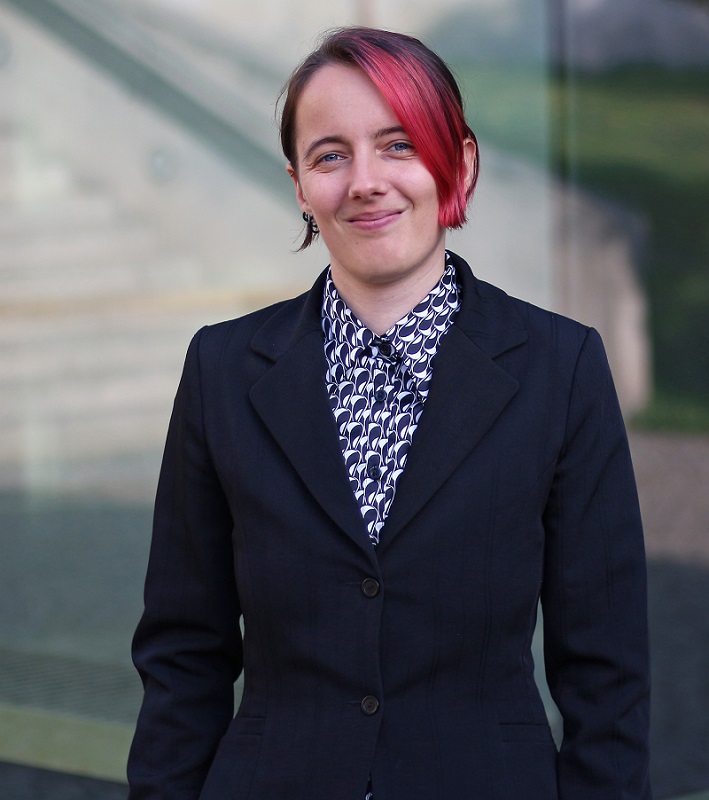 ---
---
Contact
Präventions- und Beratungsstelle Antidiskriminierung
phone: 0345/55-21013
antidiskriminierung@uni-hal...
room 329, 3. OG
Dachritzstraße 12
06108 Halle (Saale)
Bürozeiten Montag bis Freitag. Sprechzeiten nach Vereinbarung.

Urlaubsbedingt vom 16. August bis zum 10. September 2021 nicht besetzt How to reach us
postal address:
Martin-Luther-Universität
Stabsstelle Vielfalt und Chancengleichheit
Präventions- und Beratungsstelle Antidiskriminierung
Sabine Wöller
06099 Halle (Saale)
---
---
Login for editors
---
Anti-Discrimination Prevention and Counseling Office
Martin-Luther-University Halle-Wittenberg attaches great importance to non-discriminatory and non-violent interaction, equal and trustworthy collaboration as well as good working and study conditions. Hence, it established a directive for the prevention of discrimination, (sexual) harassment and violence and created a contact office.
Since 2018 the Discrimination and Sexual Harassment Prevention Office has been actively supporting the implementation of this directive and was made permanent in 2021 as the Antidiscrimination Prevention and Counseling Office.
It provides information on possible courses of action, aims to optimize existing procedures in order to ensure effective protection against discrimination, (sexual) harassment and violence and to provide confidential expert support for people affected. This includes the conception of continuing education models, a target-group specific public outreach as well as the promotion of university internal and external networking in the fields prevention of discrimination and counseling for victims. Besides, it actively supports the working group "sexual harassment". The Antidiscrimination Prevention and Counselling Office is member of the nationwide bukof-commissions (federal conference of equal opportunities commissioners at universities) "sexualized discrimination and violence" and "queer* gender equality policy at universities" as well as the nationwide networks "Antidiscrimination at Universities" and "Diversity at Universities".
---
Feel free to contact us
You can contact us, if...
...you consider to take action or have any suggestions

... you heard about a case of discrimination or feel yourself discriminated and would like to receive counseling and support

...you wish for continuing education in the field of anti-discrimination

... you work in the field of anti-discrimination and want to network
---
Interview (HIT 2020)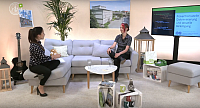 Präventionsstelle im Interview
The Prevention Office was interviewed during the Summer 2020 Virtual Higher Education Information Days (HIT).
---
Introduction (Central Orientation Days 2020)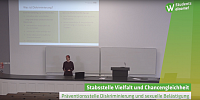 Die Präventionsstelle stellt sich vor
The Prevention Office introduced itself as part of the Fall 2020 Digital Central Orientation Days.

Link to the video (YouTube) (German)
---
Talk (hastuzeit-Podcast 2020)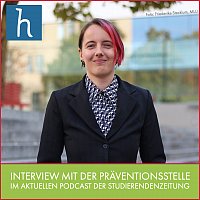 In the podcast "hastuGehört" of the student newspaper hastuzeit, student Hermine Vulturius spoke with Sabine Wöller in November 2020 about her work at the University of Halle and the topic of sexualized discrimination in the university context. The 40-minute conversation will cover the following questions, among others: What does the Prevention Office actually do? What is sexual harassment? Where does it start? What can happen at universities? What would the perfect university look like? How does the University of Halle protect and support its students and employees? How can you support affected friends? What is the situation of trans* people? Where can you get more information?
---
Artikel (Campus Halensis 2018)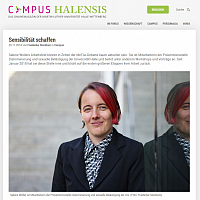 Sabine Wöller im Gespräch mit dem Universitätsmagazin Campus Halensis über ihre Arbeit als Projektkoordinatorin der Präventionsstelle Diskriminierung und sexuelle Belästigung.
---
Event overview
The Anti-Discrimination Prevention and Counseling Center regularly organizes events on anti-discrimination topics. An overview of previous and upcoming events can be found here.
---
Staff members
Managment
Sabine Wöller
student assistant:
N.N.
former student assistant
Montana Zimmermann (04/2019-03/2020)
Mandana Uriep (04/2020-12/2020)
former interns
Sophie Leins (12/2019-01/2020)
---
---