---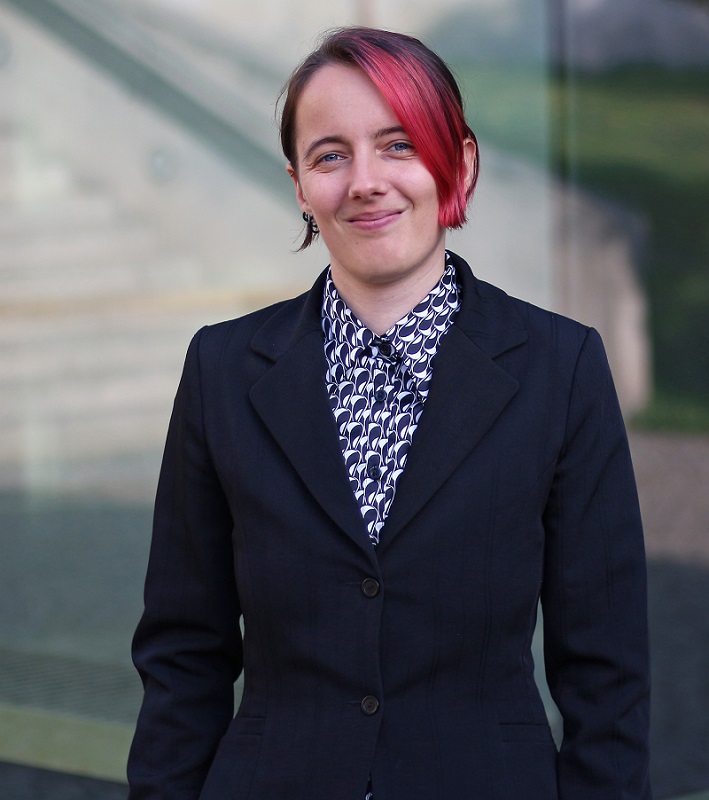 ---
---
Contact
Präventions- und Beratungsstelle Antidiskriminierung
phone: 0345/55-21013
antidiskriminierung@uni-hal...
room 019, 3. OG
Dachritzstraße 12
06108 Halle (Saale)
Bürozeiten Montag bis Donnerstag. Sprechzeiten nach Vereinbarung. How to reach us
postal address:
Martin-Luther-Universität
Stabsstelle Vielfalt und Chancengleichheit
Präventions- und Beratungsstelle Antidiskriminierung
Sabine Wöller
06099 Halle (Saale)
---
---
Login for editors
---
Anti-Discrimination Prevention and Counseling Office
Martin-Luther-University Halle-Wittenberg attaches great importance to non-discriminatory and non-violent interaction, equal and trustworthy collaboration as well as good working and study conditions. Hence, it established a directive for the prevention of discrimination, (sexual) harassment and violence and created a contact office.
Since 2018 the Discrimination and Sexual Harassment Prevention Office has been actively supporting the implementation of this directive and was made permanent in 2021 as the Antidiscrimination Prevention and Counseling Office.
Its activities include:
Providing information on possible courses of action in discrimination cases

Analysis of the need for action as well as further development and establishment of procedures in discrimination cases

Raising awareness of discrimination issues through further training and public relations work

Confidential consultation and support of affected persons

Intra- and extra-university networking in the field of anti-discrimination
The Prevention and Counseling Center is part of MLU's Staff Unit for Diversity and Equal Opportunity.
The Antidiscrimination Prevention and Counselling Office is member of the nationwide bukof-commissions (federal conference of equal opportunities commissioners at universities) "sexualized discrimination and violence" and "queer* gender equality policy at universities" as well as the nationwide networks "Antidiscrimination at Universities" and "Diversity at Universities".
---
Feel free to contact us
You can contact us, if...
... you consider to take action or have any suggestions

... you heard about a case of discrimination or feel yourself discriminated and would like to receive counseling and support

... you wish for continuing education in the field of anti-discrimination

... are unsure how to act in a discrimination-sensitive manner in concrete situations in your everyday study or work life.

... are doing research in the field of anti-discrimination at the university or are otherwise active and would like to network.k
Confidential consultation
If you have experienced or observed discrimination in university contexts, you are welcome to contact us. Counseling sessions are confidential and can be anonymous if you wish. No further steps will be taken without your consent. Consultations can take place in presence (subject to and in compliance with hygienic regulations), via videoconference or by telephone. Please simply make an appointment by e-mail: antidiskriminierung@uni-halle.de
The Anti-Discrimination Prevention and Counseling Center is primarily responsible for persons who do not have an employment contract with the university and belong to the following member groups:
Students

Exchange students

Doctoral students

Students and fellow students of the Landesstudienkolleg

Doctoral candidates

Habilitation candidates

Guest & second students

Scholarship holders

Guests
In addition, the Anti-Discrimination Prevention and Counseling Center is the primary point of contact for trans*, inter*, and non-binary individuals who experience discrimination in university contexts due to their gender identity - regardless of your membership group or employment contract with the university.
At the University of Halle there are several places where affected persons can get confidential advice and support. You can find an overview here.
Where to find us
You will find the Prevention and Counseling Center Against Discrimination in the immediate vicinity of Universitätsplatz in Dachritzstraße 12 on the top floor (3rd floor). Since September 2021, the office is no longer located in room 329 but in room 019. You can get to it if you turn left immediately coming from the staircase and turn left again at the end of the hallway.
The building has an elevator and barrier-free restrooms on the 1st and 2nd floors. There is an all-gender restroom on the 2nd floor. There are two stairs to negotiate in the hallway on the way to Room 019. If this is a barrier for you, an alternative room can be found for consultations.
---
Media appearances
Infofilm (Zentrale Orientierungstage 2021)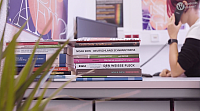 Anlässlich der Zentralen Orientierungstage 2021 hat das Hochschulmarketing im September 2021 einen Infofilm über die Präventions- und Beratungsstelle Antidiskriminierung gedreht.
---
Interview (HIT 2020)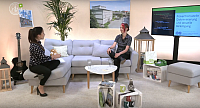 Präventionsstelle im Interview
The Prevention Office was interviewed during the Summer 2020 Virtual Higher Education Information Days (HIT).
---
Introduction (Central Orientation Days 2020)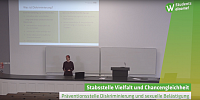 Die Präventionsstelle stellt sich vor
The Prevention Office introduced itself as part of the Fall 2020 Digital Central Orientation Days.

Link to the video (YouTube) (German)
---
Talk (hastuzeit-Podcast 2020)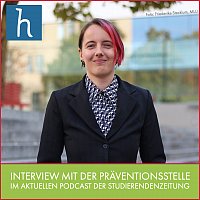 In the podcast "hastuGehört" of the student newspaper hastuzeit, student Hermine Vulturius spoke with Sabine Wöller in November 2020 about her work at the University of Halle and the topic of sexualized discrimination in the university context. The 40-minute conversation will cover the following questions, among others: What does the Prevention Office actually do? What is sexual harassment? Where does it start? What can happen at universities? What would the perfect university look like? How does the University of Halle protect and support its students and employees? How can you support affected friends? What is the situation of trans* people? Where can you get more information?
---
Artikel (Campus Halensis 2018)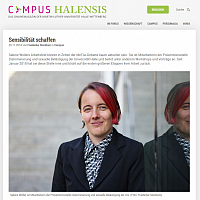 Sabine Wöller in conversation with the university magazine Campus Halensis about her work as project coordinator of the Prevention Office Discrimination and Sexual Harassment.
---
Event overview
The Anti-Discrimination Prevention and Counseling Center regularly organizes events on anti-discrimination topics. An overview of previous and upcoming events can be found here.
---
Publications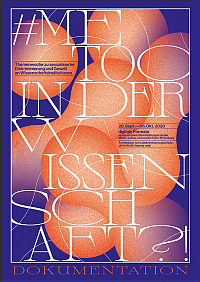 From September 28 to October 6, 2020, the Martin Luther University Halle-Wittenberg hosted the theme week MeToo in Science?! Sexualized Discrimination and Violence at Scientific Institutions took place. In January 2022, the Präventons- und Beratungsstelle Antidiskriminierung, together with its co-organizers, published a comprehensive documentation of this theme week in the form of a 100-page brochure. This is available to all interested parties as a PDF document for download.
---
Staff members
Managment
Sabine Wöller
former project coordinator:
Sabine Wöller
student assistant:
Hermine Vulturius (since 02/20222)
Zilan Hisir (since 02/2022)
former student assistant:
Montana Zimmermann (04/2019-03/2020)
Mandana Uriep (04/2020-12/2020)
former interns:
Sophie Leins (12/2019-01/2020)
---
---